Melatonin to treat bipolar sleep problems? Those who are Manic Depressive – now called Bipolar 1 Disorder – have scewed-up sleeping patterns. They may have a great day, enjoy their evening with family or close friends and get to bed at a decent hour… then fall fast asleep only to awaken 10 hours later exhausted and wondering why.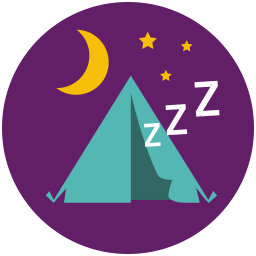 Or they feel very down. They had a hard time getting through their 9-5 full time job and are agitated and restless. They cannot get to sleep even after making themselves eat a full, three-course meal at dinner time with a glass of wine to help them relax. Then a chill movie – nothing overly-stimulating and off to bed afterwards.
This is this bipolar warrior's normal routine to get to sleep during a stressful time in their lives. They have lived with BP-1 for more than 5 years and know how important it is to stick to a bedtime routine, especially when they are preoccupied with other things and not thinking about the illness.
But it doesn't work. They lay in bed for hours with their mind alert and thoughts racing, no shut-eye to speak of until 2 a.m. or so then awaken at 6 a.m. They feel understandably tired and have an off day at work. It sucks but is a key symptom of the illness.
Previous post: Bipolars Have Irregular Sleep Patterns.
Take Melatonin to Help Sleep Problems Associated with Bipolar Disorder?
Crappy sleep and irregluar sleeping patterns are a hallmark of this illness. The why of it isn't important, only the understanding that not getting enough sleep or quality sleep can lead to illness episodes.
For a normal person not living with a serious mental illness who doesn't get a good nights rest – or stays up all night for whatever reason – no big deal. For someone who is Manic Depressive – huge issue.
It can lead to hypomania that then may spiral out of control and progress into actual mania. There is always with BP-1 the possibility of needing to be hospitalized.
How Can Melatonin Help?
I've taken the over the counter natural sleep aid melatonin for years. Off and on, when needed and usually 3 mg. You can buy 1 mg tablets to try at first. For some it makes them wake up groggy and they do not like taking it.
But the reality is it sure does beat having to take any psychotropic medication for sleep – or an addicting sleep med such as the benzodiazepine valium. Benzodiazepines are highly addictive drugs with serious withdrawl symptoms if you try to stop taking them. There is a reason we have 'benzodiazapine recovery' programs.
Previous post: Are Your Psych Meds Making You Sick?
Melatonin is a hormone that helps regulate your sleep cycles. It is made by the pineal gland in your brain. Start with 1 mg then increase the dosage slowly. You'll find the amount that is right for you, and know when you need to take it; whether that be nightly or on occassion. It is also an excellent way to combat jet lag when traveling.
I've needed more rest lately (more chronic fatigue related than bipolar related) so have been diligent about taking a 3 mg tablet at night, usually after a couple glasses of wine. I may still take some time to fall asleep, but when I do it is usually deep sleep and I wake up feeling rested.
That is the goal: to get quality sleep that helps you, your body, soul and mind rejuvenate and recharge. Ready to take on the day.
The cute tent sleeping icon is by The Girl Tyler at IconArchive.com.