I discovered Lauren through her blog – The Bipolar Mama. Lauren is uber cool as a roller derby, bipolar blogging, health afficianado Mom, wife and business owner. When she is not working from home, she is fighting towards eradicating stigma from mental illness. Brilliant. You can connect with Lauren on Twitter or Facebook too.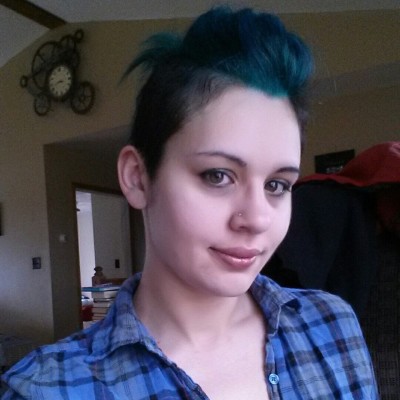 1. Thank you for taking the time to share your story. Can you tell us a little about yourself?
Thank you for letting me share my story. I am originally a New Jersey native and the oldest of 8 children. I have 4 brothers, 1 sister, a half-sister and a half-brother. I have two beautiful boys, Daniel, 3 and Dylan 1 1/2 years old. I have been married to my wonderful, supportive husband Kris for 4 years.
When I am not volunteering for the Create Café, I am playing blocker for the Northern Allegheny Roller Derby league. I also dabble in raising chickens.
I have also had the honor of being filmed for Healthination's True Champions series. I was featured as WEGO Health Activist for the month of April. I am a regular contributor to Stigmama.com. I have also contributed to Stigma Fighters.

2. What events led to you receiving a diagnosis of bipolar disorder?
I have always known there was something different about myself. I didn't understand why I would get so angry and emotional about little things. I was very sensitive. I was bullied most of my life because others noticed I was different too.
My senior year I started self-harming myself as a way to cope. Then one day about 2 weeks before my 17 birthday, I decided to give up. I just felt like I couldn't do it anymore. I couldn't deal with the racing thoughts, sleepless nights, and bottomless depression.
The constant bullying was just the tipping point. For some reason still unknown to me, I decided to share my plan to end it all to my creative writing teacher. Then according to protocol, he turned me into the school guidance consular who in turn called my mother. My mother then brought me the nearest psychiatric facility and had me admit myself.

3. If you don't mind, can you share how old you were at the time of diagnosis and what type of bipolar illness you have i.e. Bipolar I Disorder (BP-1), Bipolar II Disorder (BP-2), Cyclothymic, etc.
When I was hospitalized, I was discharged with the diagnosis of Borderline Personality Disorder with Major Depression. When I started outpatient treatment, I was re-diagnosed with Bipolar II. As treatment continued on and off through the years, I was finally diagnosed with Rapid-cycling Bipolar Disorder.

4. Do you have other diagnosed medical conditions besides bipolar (physical or mental)? For example, I have fibromyalgia and deal with chronic fatigue. I also have a form of subclinical hypothyroid. All of these have affected my bipolar states and when treated successfully my severe bipolar illness states (psychosis of mania, suicidal depression) improved much.
Aside from the bipolar disorder, I have anxiety and mild paranoia. I also have weak ankles. lol
Note from Molly: Funny! And I do too 🙂

5. Now for the good stuff! What things – medications, vitamins, therapy, books, alternative treatments, etc. – have helped you to not only survive this difficult illness but thrive in your life?
I have tried various things in my life. Things I have found most effective for me through the years are:
Regular Exercise
Proper Nutrition
Regular Sleep Habitats
Routine Schedule
Writing/Blogging
Therapy in Conjunction with Medication

6. What advice do you have for others who may be overwhelmed by the symptoms (hypomania leading to impulsive behaviour, rapid cycling mood changes, hospitalizations due to severe depressive episode or a manic episode resulting in psychosis…) and feel discouraged or without hope?
If you can, get out of the house. Go to a park. Meet a friend for coffee. Sometimes a change a scenery can do wonders for your mood.
Join a club or sport. Something that requires regular attendance and interaction. Write about it. Sometimes you just need to get it out. Share your story.
Someone close to you may going through something similar. Remember you are NEVER EVER alone. There are thousands of us like you. We are willing to help you through. Never give up hope. It will get better. You will get through this.
"Never give up. Today is hard, tomorrow will be worse but the day after tomorrow will be sunshine." – quote from Jack Ma
Note from Molly: I did not know who Jack Ma was! If you don't either, he is a very wealthy Chinese entrenpreneur. Business Insider Article on Jack Ma.
Thank You!
I had a hard time reading about the self harming part (always do when I hear stories about cutting). Was glad to then get to read how you moved forward in life and have done so well, really excellent.
The focus on healthy living, getting regular exercise, etc. – so important and hopefully will inspire others to make similar changes in their lives.
Best of luck in your ventures and with your young family. Molly
Photograph courtesy of Lauren, all rights reserved.