Thrilled to post my first interview – with lovely Ann Roselle! Ann is an Acute Care Nurse Practitioner in the Heart and Vascular Center at Yale-New Haven Hospital in Connecticut. She blogs about living with bipolar illness at: Bipolar and Me: Musings of a Wife, Mother, Professional & Advocate.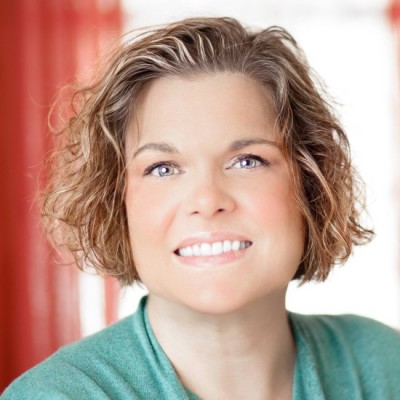 1. Thank you for taking the time to share your story. Can you tell us a little about yourself?
Thanks! I'm 40 years old (blargh!), a wife and a working mom of three awesome boys (Liam age 6, Noah and Eli age 5) – it's a busy house! My husband is a graphic designer and photographer. I have been in nursing for 17 years and a nurse practitioner for the last nine.
I like to write, love to read in my non-existent spare time and have an appreciation for fashion. I say appreciation because I can't fit into most of my closet currently with my meds, but I'm working hard to change that!
In the summer, Go Sox! In the winter, Go Pats! I bleed for the New England sports teams.

2. What events led to you receiving a diagnosis of bipolar disorder?
I had the baby "blues" following the birth of my first-born, but bounced back fairly quickly. I had a pretty difficult pregnancy with my twins and was referred to a women's mood disorder clinic with them to cope for what was post-partum depression although no one was saying it out loud.
Medications were being prescribed and I was being pretty non-compliant in the name of not liking the side effects. That was back in 2010. I nearly got hospitalized for a mild psychotic episode near Christmas of that year, but I fought it, following accusations that my mother's helper was trying to kidnap my twins.
We moved the following fall to CT and I started seeing a therapist at my husband's urging for what he recognized as full-blown postpartum depression (PPD). I ended up hospitalized after becoming suicidal on medication.
I completed a course of electroconvulsive therapy (ECT) which I did well with, however after a time I became manic and it went unchecked for months. I got dropped by my therapist for my "acting out" and refusal to seek help.
Unable to understand what was going on and why no one would help me at the time, I overdosed and was hospitalized. It was then that I was told I was bipolar for the first time. Over the next several months we repeated the cycle until my husband and myself finally understood the diagnosis and what was happening.

3. If you don't mind, can you share how old you were at the time of diagnosis and what type of bipolar illness you have i.e. Bipolar I Disorder (BP-1), Bipolar II Disorder (BP-2), Cyclothymic, etc.
I was 37 at the time of my diagnosis and I was diagnosed with Bipolar II Disorder (BP-2) officially.

4. Do you have other diagnosed medical conditions besides bipolar (physical or mental)? For example, I have fibromyalgia and deal with chronic fatigue. I also have a form of subclinical hypothyroid. All of these have affected my bipolar states and when treated successfully my severe bipolar illness states (psychosis of mania, suicidal depression) improved much.
I have chronic migraines. However they were under control for years prior to diagnosis. I have noticed though, despite excellent control, low mood states will trigger a migraine.

5. Now for the good stuff! What things – medications, vitamins, therapy, books, alternative treatments, etc. – have helped you to not only survive this difficult illness but thrive in your life?
Sleep hygiene is crucial for me. I need to get eight hours every night, and I get into trouble if I get out of sync more than one night. It's been known to trigger hypomanias. I am a fanatic about my sleep hygiene.
I take daily probiotics for gut health. The data is out there! Gut health is critical for mental health. I also take a multivitamin and Vitamin D.
Exercise is critical but I wholeheartedly admit I'm horrible about it. I recently started tracking my steps on my iPhone which is helpful and now that summer is here I'm looking to kickstart some change.
I read everything I can get my hands on. I have read all of Kay Redfield Jamison. The book Loving Someone with Bipolar Disorder by Julie Fast and John Preston was tremedously helpful in the early years to both my husband and myself. I try to stay current on the literature and routinely use PubMed to search new research papers and studies coming out.

6. What advice do you have for others who may be overwhelmed by the symptoms (hypomania leading to impulsive behaviour, rapid cycling mood changes, hospitalizations due to severe depressive episode or a manic episode resulting in psychosis…) and feel discouraged or without hope?
First of all, that this is not your fault. This is genetics. What got me through in the early days was the idea that my brain betrayed me and now I had to learn to live with a new brain. It was primitive thinking but it worked for me at the time.
We need to learn to be patient with ourselves. This is an illness, a very real illness that over TIME we will learn to control and manage our symptoms. It's okay if some days all we do is breathe.
We also need to learn to not feel so guilty about self-care, our emotions and just being authentically us. If I did the best I could do all day, put my best foot forward and can look myself in the mirror at the end of the day – it's a good day.
Thank you!
I absolutely loved this interview and those who know some of my story will know I so agree with Ann on augmenting any medical treatments with natural supplements as needed, such as the probiotics she takes and trying to get daily exercise.
As she is a medical professional as well as a busy wife and mother, hopefully Ann's story will inspire others. She shows you can get well and lead a full, productive life.
best, Molly
Photograph courtesy of Ann Roselle, all rights reserved.